£50m Motor Neurone Disease Funding 'Offers Glimmer of Hope'
A £50m research funding pledge for motor neurone disease offers a "glimmer of hope", campaigners have said.
Former rugby players Doddie Weir and Rob Burrows, who have MND, were among those calling on the government for more investment.
The government has announced it will put at least £50m over five years into research in a bid to find a cure.
Ex-Leeds Rhinos' scrum half Burrows said "the hard work starts now… to find an effective treatment".
Speaking to BBC Breakfast, he said he felt "on top of the world", knowing "that someone is listening to us"
Former Scotland Rugby Union international Doddie Weir said the money was going to make a "huge difference not only to the patients, but also the MND patients' families as well".
'Monumental decision'
MND affects the brain and nerves, eventually stopping muscles functioning.
Ex assistant chief constable Chris Johnson, who also has condition, told the BBC the announcement by government was a "monumental decision".
The 54-year-old, from Bromsgrove, was diagnosed with the disease in 2018 and retired from West Midlands Police last year.
"I think this offers some hope to the MND community across the country. We hope it can move from a terminal disease to a treatable one within the [five-year] time frame," he said.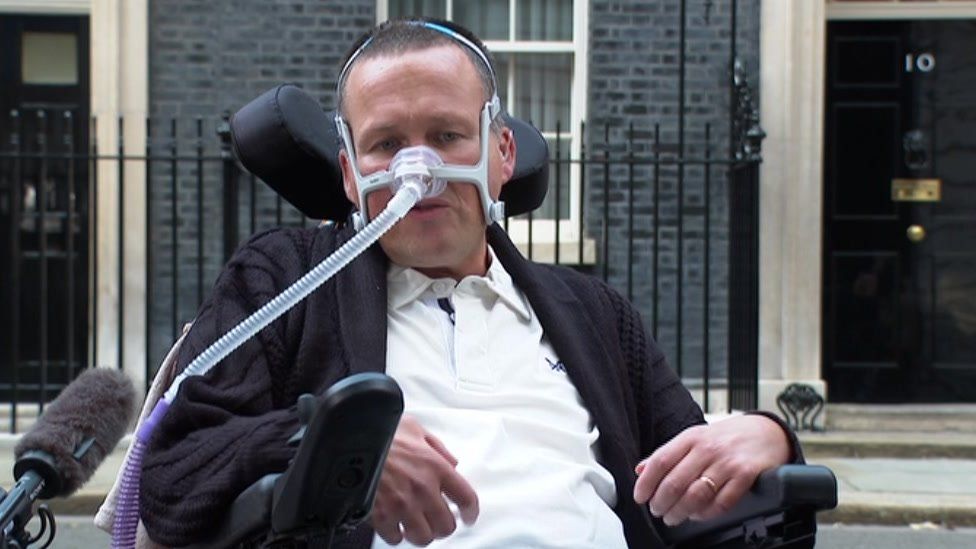 Chris Johnson helped raise awareness of the disease since his diagnosis in October 2018
Speaking to the BBC in September, Mr Johnson said while his condition had deteriorated, he felt "blessed" to have seen another Christmas with his family and spend birthdays with his children.
He said many others with MND died within two years of diagnosis.
"Motor neurone disease doesn't discriminate, whether it's age, whether it's religion, whether it's around your nationality, it truly is a disease for everybody," he said at the time.
An open letter to government, signed by hundreds of MND sufferers and delivered in September, said the condition was currently a "death sentence", but research had reached a point where a cure or life-saving treatment could be found.
It also said the disease was "not rare", as it would kill one in 300 people in the current population.
The campaigners said the government's previous investment of less than £5m a year into MND research was "insufficient for a disease of this nature".
The latest funding pledge from the Department of Health and Social Care was part of a £375m investment for research and treatments for a range of neurodegenerative diseases.
Health Secretary Sajid Javid said conditions like MND could have a "devastating impact on people's lives" and he was committed to ensuring the government did all it could to fight such diseases and support those affected.
Seen on BBC (Health): Article Link