Denver Fertility Tech Startup Merges to Create Holistic Care Platform Rescripted
When Abby Mercado launched Denver startup Best Shot nearly two years ago, her primary goal was to create a medication management platform for fertility treatments.
The health tech startup was built in response to Mercado's own hardships and designed to help families find the resources they need to reduce the stress that often results from IVF treatments.
While the primary focus for Best Shot was on medication management, the company made a pivot during the pandemic while clinics were closed. Mercado and the team launched a small group therapy tool that opened their eyes to the possibilities the company had to connect directly with patients.
"We didn't realize how holistically bad the market was out there until we really got into it," Mercado said.
So, Best Shot altered its focus and became dialed-in on its consumers. It had initially been incubating its product in clinics across the country, before making the move to direct-to-consumer outreach earlier this year.
"Clinics really cared but patients cared the most," Mercado added.
In changing its strategy, Best Shot realized it would have to pay more attention to customer acquisition and marketing. The company began to explore influencer marketing and Mercado connected with Kristyn Hodgdon of The Fertility Tribe on an Instagram Live.
The two were fast friends, and shared similar experiences as moms of 2-year-old, IVF twins. As their kinship blossomed, the business opportunities became clear and a combined company was born.
Best Shot and The Fertility Tribe recently announced the launch of Rescripted, a merger between the two brands. The direct-to-consumer company blends Best Shot's tech-enabled care platform with The Fertility Tribe's community and digital publishing platform.
Rescripted aims to deliver comprehensive care for fertility patients by providing members with a community forum, content library and medication management tools. Later this year, Rescripted will launch a medication fulfillment service, small group therapy and a product marketplace.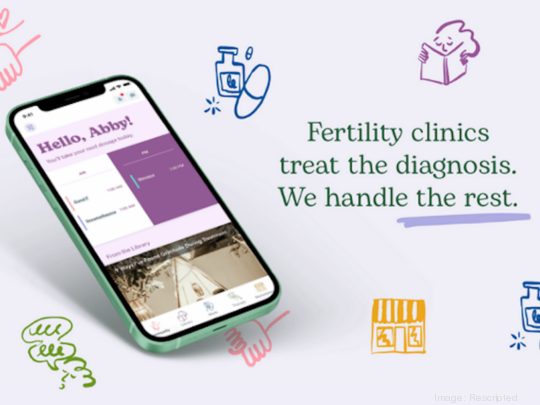 For Mercado, Rescripted is the mixture of physical, emotional and mental support she wanted to create with Best Shot.
"There have been so many people that have been left behind," she said, referencing the large percentage of Americans without insurance for fertility treatments. "So, can we be a little bit of everything for those people that have been left behind?"
As the company builds its platform, Rescripted announced the close of an oversubscribed $1.65 million financing round that was solely backed by angel investors. Mercado said the funds would be mostly used to grow the company's four-person staff and boost marketing efforts.
In combining companies, Hodgdon was excited about Rescripted's possibilities.
"By partnering with Abby and combining our businesses, we can accomplish so much more together than we could alone — educating and empowering the tens of millions of patients who receive fertility treatment in the U.S," she said in a statement.
Seen on BizJournals: Article Link